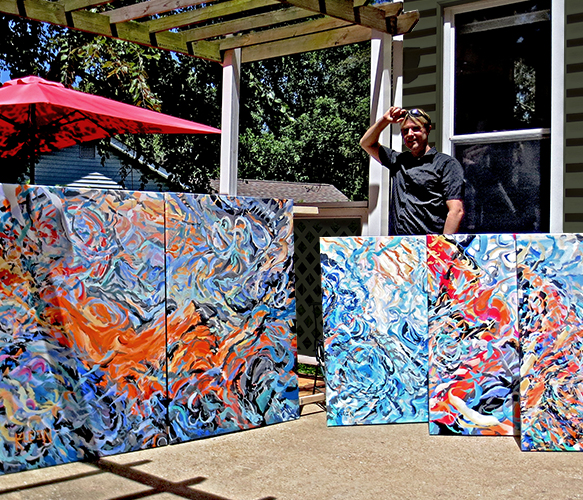 Adam Sea Klein - Artist and Author
Adam Sea Klein is currently a producing artist in the field of abstract art.  He is a St Louis based artist in many media and styles including digital, acrylic, watercolor, oil, charcoal, graphite, and pastel.  He works on paintings throughout the year as he writes and does the many other things he does!
Adam is currently pursuing more gallery representation

Sign Up for Free Book Giveaways, Large Batch Art Uploads, and New Book Notification!
Enter your name and email address below to subscribe.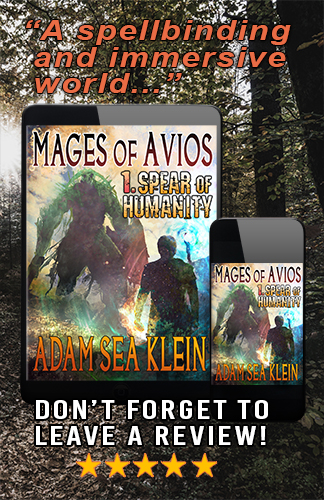 MAGES of AVIOS : EPIC FANTASY SERIES OF NOVELS
BOOK #1 and #2 released! This series will unfold an enormous world packed with heroism, travesty, and action!
Follow the book releases here: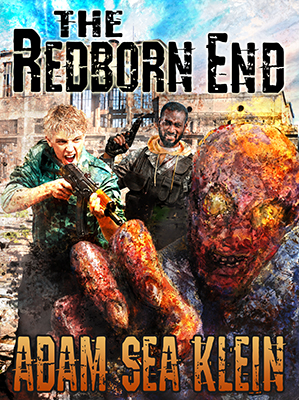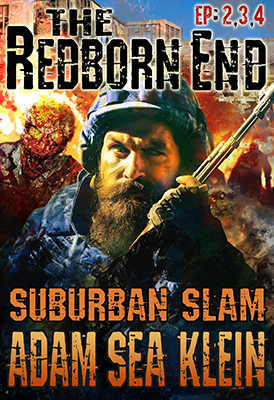 Exciting zombie series coming down the pipes.  The series primer is free with a newsletter sign up!

T

HE

B

LOBBER

G

OO

T

HAT

F

OLLOWS

Y

OU

When everything seems alright, Ricky begins to notice a strange little dark spot in the world - a spot that begins to grow.  Ricky starts to see the dark spot everywhere he goes.  No one else sees the blob beginning to take over, but every day it touches more and more.  This story is the quest of a small boy who faces the darkness that threatens to take over his town, and eventually, tries to take over himself!

READERS: ALL AGES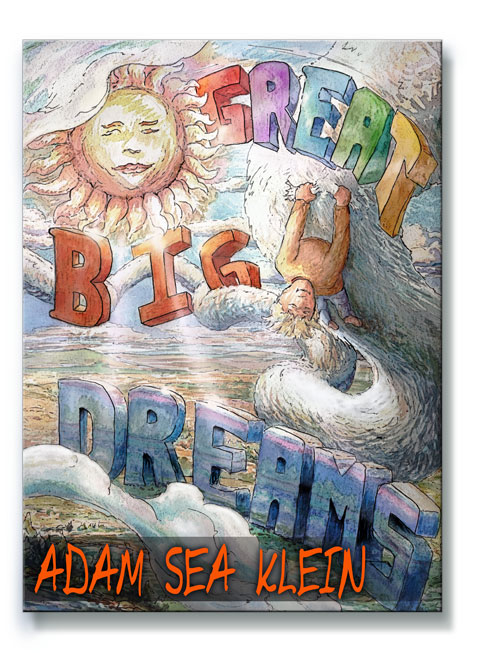 G

REAT

B

IG

D

REAMS
He woke up in a strange new place, faced with new creatures and strange events right away.  Great Big Dreams is an unfolding quest through the internal space of the mind, into a magical world with unique guides and conversations that seek to unbind the truth of reality.  Every turn a new understanding, every fork in the road, a new choice.

READERS: ALL AGES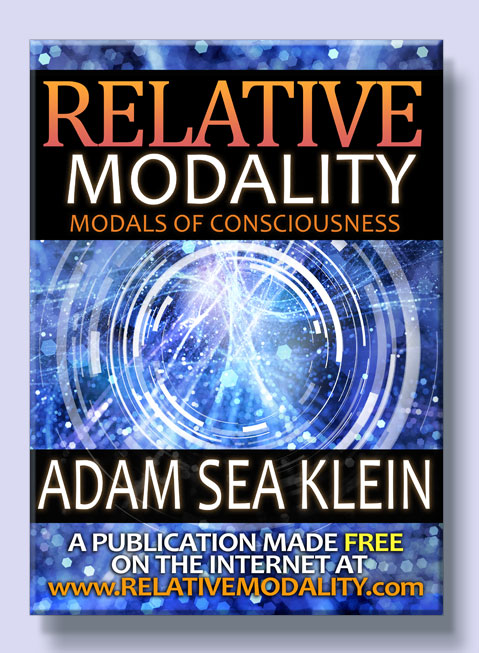 R

ELATIVE

M

ODALITY



Adam Sea Klein created a solid structure that is useful in understanding the nature of consciousness in an easily recognizable, refine-able way.
Much holistic, psychological, and mystical material extends arrays of possibilities without a central framework of common concepts to be utilized in denaturing our inherent onward drives of consciousness.  Pronouncments of change are often extended without a true grasp of how minds end up dealing with internal struggles that disable progress. Change of understanding comes most from recognizing patterns of mobility, as the will in motion keeps driving.

Modality is the best notion of how consciousness actively puzzles around reality and stages mental states to move forward in life.  Relative Modality is the grip of that framework which presents a ready and usable idea of how consciousness moves on without our awareness - and with attention, that awareness can be taken to far greater levels.
READERS: ADULT to ALL AGES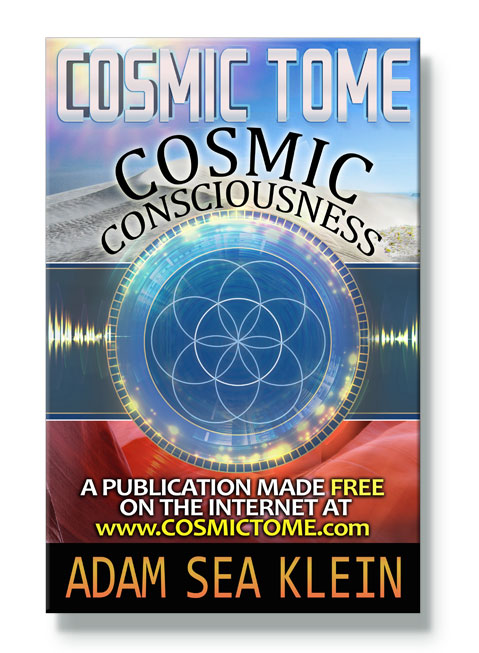 C

OSMIC

T

OME
CosmicTome.com is a complete book made free to all - written and illustrated by Adam Sea Klein based on a century old concept called Cosmic Consciousness.
Cosmic Consciousness is a concept originally outlined by Maurice Bucke - who detailed an array of thought patterns and conscious states in individuals that manifest over millennia, that define the growth of the human evolution of consciousness itself.
Cosmic Consciousness was steadily brought to the mainstream when a man named Walter Russell, a polymath of writing, art, science, and architecture, wrote a series of elucidating books discussing the nature of consciousness and the relationship to the known and unknown world.
Adam Sea Klein has brought these concepts together for CosmicTome.com and compiled the most streamlined understanding possible.
Klein further elaborates an entire method beyond, in understanding the unfolding of consciousness in the individual, and the stages of both building and decomposition that affect humanity across the board.  This comprises his second tome called Relative Modality - a second complete book hosted at RelativeModality.com - both works which he will maintain freely to the public, to extend openly to those who seek to know more about the unfolding of consciousness and the manifestation of beneficial energy in a changing world.
READERS: ALL AGES

T

AO

T

E

C

HING

Adam Sea Klein set out to create a modern re-interpretation of the legendary ancient Tao Te Ching written by Lao Tzu thousands of years ago.  
What Klein manifest was an incredible, poetic flowing environment of mystic contemplation, and the most readable version of the Tao Te Ching for the modern western world.
READERS: ADULT TO ALL AGES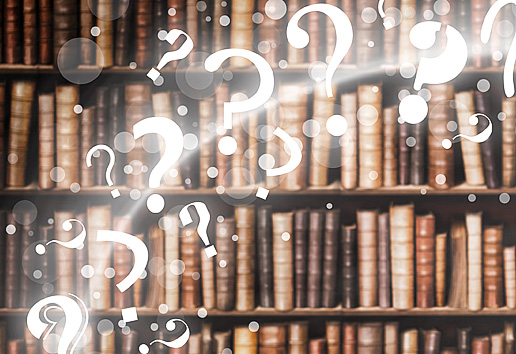 Adam Sea Klein is a productive fellow; he likes to write two or three books simultaneously.  This leads to the exciting process of launching multiple books at the same time.  So, Adam is in the process of publishing a backlog of already written books! We can notify you of the releases if you sign up for the Giveaway and New Release List to the right (or below if you are on mobile).
"Covering the map of consciousness has it's own rewards and reaching for the unknown is how knowledge has come to humanity, every step of the way.
I like to explore that surface in every possible way."        ~ Adam Sea Klein ~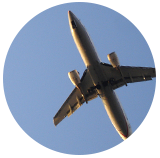 "Adam Sea Klein's stories stay forward moving with a constant flow of interesting details and interactions. He has a way of making incredible worlds yet injecting special real world nuances that give his works expanded life."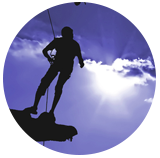 "Adam writes a unique form of poetry that makes the interior of the mind a real place and he converts that space a place to explore."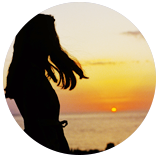 "He just knows how to hit a unique place inside, a place that only great epic works can get to. He gives the search for true consciousness room to breath.  He makes it cool."
Follow Adam's Work
You can follow Adam Sea Klein on Facebook. News, contests and special offers are announced there too.
Jump to Top of Page

Just use the three arrow buttons