St Louis Art, Music, and Culture

St Louis CULTURE



St. Louis has great wide-spread urban/suburban expanse – and while I've traveled all over the country, most of my younger days were spent near this city.  Driving back across the country after long road trips, crossing the Midwest plains, it's always a welcoming sight to see the rolling hills from the west.  Coming in from the east, it's really eye-catching to see the sharp city line and metallic arch pierce the sunset.
The U.S. has so many great cities, and I've been to a great deal of them.  They each have a unique flavor, something that makes them special.  St. Louis has a few features that help build its overall feel — what's distinct are the 3 cultural gathering scenes, all with very separate looks and feel.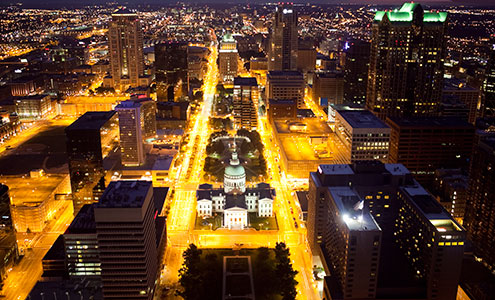 Old Town St. Charles must have 15 bars and as many restaurants, a few art galleries, the huge art annex called the Foundry, and now huge casinos which brought a really interesting clash of styles, reviving the area once again.  Just a couple miles away, from the famed brick road, there is an enormous amphitheater, and now a full size arena – both of which have great concerts around the calendar.  The brick-lined street and old genuine architecture gives the 2-3 mile street a true old-world feel.  There are not many places you can meet where culture is happening, people are having easy-going times, and also you can step back in time. 
The Delmar / Clayton area just 25 minutes away offers an expansive urban spot and another huge street filled with culture and restaurants.  Delmar has more than 4 famous music venues, which always draw a unique offering.  The Pageant, Blueberry Hill, Cicero's, and now the Delmar Hall are really awesome venues – these are great hall-style places to see music in true night-life concert style.  This area also has the famed Forest Park and a national caliber art museums, history museum, zoo, and many other great features.
Just a 10 minute drive from Delmar, in a straight shot, you can hit downtown.  The actual city of St. Louis is really accessible, and it just keeps modernizing and growing.  It's a city that feels real, enchanting, with just a touch of grit to keep you excited.  That's what keeps me interested in St. Louis – a city made legendary by being basked with praise by just about every national sports franchise to move through the city.  They all say the same thing, "These are great people."
It's not everywhere, not at all, were you can find a smiling face and friendly words with every errand you run in a single day.  From the gas station, to the grocery store, from the restaurants to the huge venues, people are just down to Earth and cool.  They call it the "Show Me" state, and I believe it applies to this wonderful city.  Basically, when it comes to people, 'show me respect and I'll show you the same'.  The genuine kindness of the far North of our country reaches all the way to this central city and blends with the most subtle version of southern charm.  People are just very forward moving, relaxed, and even-keeled.  People come together in hardship, and understand the travails of life.
Cultural diversity has continuously allowed this city to provide a greater experience than face-value typically allows.  The music scene is well represented – the amount of incredible, huge, small, diverse venues is beyond impressive.
On top of all that, the college towns are just great.  Many St. Louis raised teenagers find it easy to pick a city and go to school in-state.  Missouri State in Springfield has a great, upbeat campus.  Columbia has a really huge campus and large downtown area just 90 miles from St. Charles, making it an easy road trip for a concert at the famous Blue Note.  Southeast Missouri State and Truman University seem to split the gap offering affordability and deep education.  But, driving 2-3 hours away to go to school isn't even required.  St. Louis has some really strong colleges right near the city: SLU, Washington University, Webster, UMSL, Lindenwood, among others – these schools put out some serious programs, and if you research to match schools with your program of choice, people shoot out of their 20's flying high.
St. Louis has several art museums and quite a few galleries, and there are also organizations and guilds that make it easy to interact with artists if that's what you crave.  Art is a unique ambition, and STL hasn't forgotten the way creativity enhances us all and helps with the backbone of modern cultural diversity and a forward moving mentality.
I've lived all over this city, in or near all 3 culture hubs mentioned.  I've acclimated and adapted to the way life flows around each area.  While I have traveled and lived many other places around the country, there's a tone and pace in St. Louis that's hard to place – it's a genuine make-do attitude, a reasonableness, a subtle overall tone of reality and gratitude.  Even when the city is undergoing cultural issues, the innate nature of creative problem solving that comes with the desire to get along begins to transform the humanity within us.  There's something here about the people — visitors see it and sense it, even teams that come here to compete claim St. Louis to have the best fans on Earth.  Why is that?  It's because we try to enjoy the reality, up above the layer of distress, or struggle — and we try not to mess it up for others.  It's simple, and great… it's beautiful.
St Louis ART



Every artist has their preferred outlets and organizations, and St Louis artists simply have a few such places they have managed to try - as there are quite a few, and involvement in every group would require a few lifetimes.
In my years I've only had time to  sample some of the organizations, but there are many directions to lean towards for many types of art.
Art St. Louis is a great downtown group and gallery, featuring year-round shows that allow artists to submit single pieces to be judged for entry.  This was the first art group I joined, and it was a really great group of people with much ambition in driving up the art scene in the city.  This group and its fine leaders gave me my first two exhibits as well, as they have banded with some outstanding companies to create remote art exhibits all over the city.  In addition to that Art St. Louis has expanded into a fine modern building and gallery with constantly revolving art, which downtown really needed.
Old Town St. Charles has built one of the most unique art exhibition techniques I've ever seen.  A huge exhibition space sits below on the first floor, while up above there is a complete perimeter of active artist studios, separate from the public with only a glass wall.  An exhibit system like this creates a living dream show for those who aspire to the arts – those who paint alone in their studios can think of the St. Charles Art Annex and wonder if they have the boldness to paint on display.  Even for those who would not want such an experience, it's a great place to visit, and to ponder when working at their own studio.
Augusta Missiouri, deep in winery country offers the yearly Plein Aire Artist Paintout – and for a whole week artists will stage around the city, painting landscapes from real life – a tradition of the old masters.  This even ends with a final show, where artist offer their works for sale, and people clamor to buy their favorite piece of true art created just days before!
There are so many groups, galleries and museums all over St Louis and surrounding areas.  The city is also just 5 hours away from Chicago and their robust art scene.  A long drive south will take one to Austin and Dallas which are also booming in the art industry.  Even the legendary galleries of the east, including New York City are a driving distance away, making it quite easy for an artist to pack up a huge offering, drive out that way, and do a hand-off to a gallery.
As a St Louis artist, there are plenty of opportunities in the city, but art careers, if desired, are rarely made by staying in a single city.  What matters is finding galleries and fans that like your specific artwork – and much like with music – the fans will adore it, and those of different taste find it easy to move on.  That's why a central geographical location is great for an artist, much like with any business, as distribution becomes more simple.  For artists who wish to join the festival circuit, such a location can prove paramount.
Speaking of festivals one of the cities best gatherings is the large St. Loius Art Fair, held in Clayton, which is a very nice urban area adjacent to the Delmar Loop.  Every year people gather to sample wine, food, and see excellent art, and artist come from all over the country to be a part of it.
The artist is defined by their artwork, and the question of selling is at the forefront of most 'production artist' who spend most, or all of their time, making art intended to be sold.  That fate is not for everyone, by desire or outcome, but where you live, and the recognition of art often leads a person to take place in more artmaking.  Does St. Louis have enough mojo to push such puruit?  Of course it does, in spades, for anyone who chooses!
St Louis Art Galleries and Organizations



Galleries:
Foundry Art Centre
Mad Art Gallery
St. Louis Artists' Guild Gallery
Art St Louis Gallery
Mildred Lane Kemper Art Museum
Philip Slein Gallery
William Shearburn Gallery
Duane Reed Gallery
Componere Gallery of Art
Atrium Gallery
William Sheaburn Fine Art
Koken Art Factory
Houska Gallery
10th Street Gallery
Kodner Gallery
Des Lee Gallery
Missouri Artists On Main
Fine Art Limited
Fraser Leonard Art Gallery
Art Glass Array
Native Traditions Gallery
Aart & Frame Gallery
La Gallerie
Kodner Gallery
Green Door Art Gallery
Craft Alliance Center of Art + Design
Soulard Art Gallery
Bruno David Gallery
Artists First
The Old Orchard Gallery
The Luminary
The Sheldon Concert Hall and Art Gallery
Confluence Art Gallery
Norton's Fine Art and Framing
Framations
Bullivant Gallery and Consulting
Grafica Fine Art and Custom Framing
Third Degree Glass Factory
(and many more)

Organizations:




Art St. Louis
St. Louis Artists' Guild
Art Unleashed
Regional Arts Commission
Cyan Art Studios
St. Charles County Art Council
Coca – Center of Creative Arts
St. Peters Cultural Arts Center
Wildwood Green Arts
Artscope
Arts & Education Council
(and many more)
Art in the City



The life of a visual artist frequently involves much isolation while working. It's great to mix things up and to see what others are doing in person. While the realm of one's mind can be endlessly captivating - make sure to get out and stretch your legs, and see the quality of artwork up close - venture to a local art show, refresh your mind, and get the creative drive pumping again!

Articles by an Author and Artist

Sign Up for Free Book Giveaways, Large Batch Art Uploads, and New Book Notification!
Enter your name and email address below to subscribe.
"People commonly set out to reach a destination or complete a goal, and in the end, something much stranger occurs... they become a different person. Some of our best and worst experiences are transforming and it can require a steady effort to maintain and create a good world."
~ Adam Sea Klein ~